Image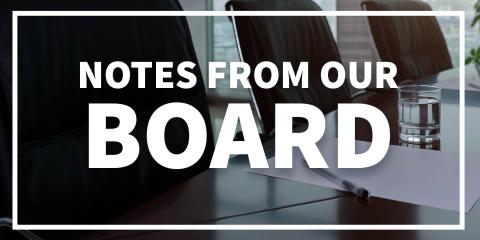 The latest developments, decisions and changes coming out of our spring board meeting, held in Olympia.
The full board meeting minutes are available here.
DEVELOPMENTS
With the departure of Skagit County Commissioner Lisa Janicki, the board welcomed her replacement, Whitman County Commissioner Art Swannack; appointed Columbia County Engineer Grant Morgan to the Vice Chair position; and appointed Lewis County Commissioner Lindsey Pollock to the Second Vice Chair position.
County Engineer Appointments
Benton County appointed Matt Rasmussen, P.E. as the county engineer on March 28, 2023. Three counties (Klickitat, Pend Oreille, and Thurston) currently have vacancies and have interim county engineers serving in those roles. County Engineer Jim Karcher will be retiring at the end of June and Whatcom County has hired Doug Ranney to start on July 1.
New and Enhanced Email Communication
Our agency rolled out a new email communications tool as a part of efforts to improve our communication with our many stakeholders, partners and counties. It will allow subscribers to sign up to receive information from us, recipients to specify what types of content they are interested in as well as providing us with useful analytics for developing future communications.
GIS-Mo Forum and Open Support Hours for County Assistance
CRAB is hosting a monthly GIS-Mo Forum for high-level discussion with counties and to gather feedback on program effectiveness and improvements. Additionally, a weekly open support hour is an effort to support counties through the transition from Mobility to GIS-Mo and to target specific problems users are having today. 
GIS Integration with State Partners
We are working with our state agency partners to integrate with high value data for county roads, such as the WSDOT Bridge Data Office and the Collision Location Analysis System (CLAS). The integrations are mutually beneficial to county road departments, partner state agencies, and CRAB alike by reducing data entry, providing centralized access to information and improving timeliness, accuracy, and completeness.
DECISIONS
Appointment of $2.9 Million in RATA Funds Approved
The board approved apportioning the Rural Arterial Trust Account (RATA) funds to the regions according to the pre-determined 2021-23 percentages.
Construction Time Extensions Granted
The board reviewed and approved three extensions requested by Columbia, Cowlitz and Grays Harbor Counties. At the recommendation of staff, the Lower Hogeye Road Project (Columbia) received an additional extension to April 18, 2025; the South Cloverdale Road Project (Cowlitz) received an extension to April 16, 2025; and the Garrard Creek Road Realignment (Grays Harbor) received an extension to April 16, 2024.
RAP Projects Approved and RATA Revenue Allocated
The Board voted to approve the 2023-25 RAP Projects and allocation of the estimated 2023-25 RATA Revenue, which distributes 90% of the estimated 2023-25 fuel tax revenue and turned-back funds for a total of $57 million to listed projects in the five regions.
2022 Certificates of Good Practice Awarded
Derek Pohle provided a special presentation overview of the Standards of Good Practice. The board determined 34 of 39 counties have demonstrated reasonable and substantial compliance with all applicable laws and Standards of Good Practice. Five counties (Clallam, Grant, Grays Harbor, Lewis and Yakima) will be issued Conditional Certificates of Good Practice and must be in full compliance by December 31, 2023.
CHANGES
CRAB is reviewing and assessing policies and procedures, some of which were last updated in 1998. Changes made will bring the agency's procedures, as codified in WAC 136-06, to the current requirements. Mr. Woods shared that the agency filed CR-105 with Code Reviser's office to expedite rule making and the new WAC changes will go into effect May 23, 2023 unless comments are received before then. 
Mr. Woods presented the Board with an overview of proposed changes that may need to be made to the Rural Arterial Program (RAP) and Standards of Good Practice. The Board set a public hearing at the next Quarterly Meeting on Thursday, July 27th at 2:00pm, in case any issue arises during the expedited rule making process that necessitates a public hearing.
SmartSimple to Replace CARS and RAP Online
In an effort to more rapidly meet the needs of county staff, the agency secured a grant to replace two software programs with SmartSimple, a flexible technology that specializes in workflow automation. The replacement project is underway with a expected completion in Summer 2023.
Image

Jason Bergquist
Executive Assistant