What is the Capital Improvement Program?
The County Ferry Capital Improvement Program offers financial assistance for major capital improvements to the four county-operated ferry systems. The program can be initiated every four years, and the four eligible counties (Pierce, Skagit, Wahkiakum, and Whatcom) may apply for up to $10 million in financial assistance for vessel replacement or major upgrades to vessels or docks. Funding for the selected projects must be approved by the Legislature, with annual payments not to exceed $500,000 per year for up to 20 years. Go to WAC 136-400 for more information. 
Image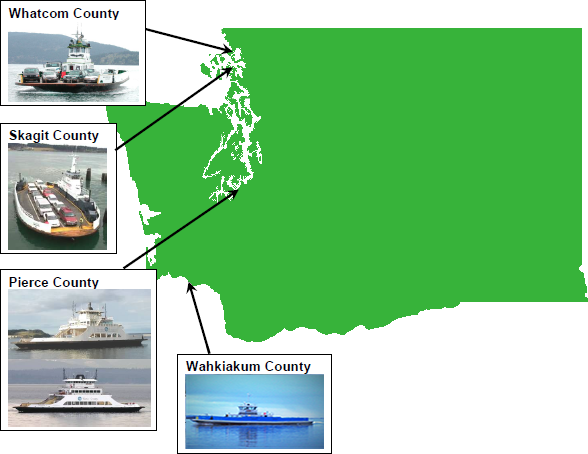 County Ferry Program Status
Due to lack of other viable funding support, the county ferry capital improvement program (CFCIP) was created in 1991 specifically to assist the four counties operating car ferries. The counties currently operating car ferries include Pierce, Skagit, Wahkiakum, and Whatcom.
Projects eligible for consideration include:
Purchase of new vessels
Major vessel refurbishment
Facility refurbishment and replacement
Construction of infrastructure that provides new or additional access or increases the capacity of terminal facilities
Access to the program is limited in frequency (once every four years), and requires the county first seek funding from alternate sources including, but not limited to, the Public Works Trust Fund.
Administration of the County Ferry Capital Improvement Program is contained in WAC 136-400. Summary information is also available through the CFCIP Project Application Guidance document.
See the 2015 County Ferry Report for more information about the four county ferry systems.