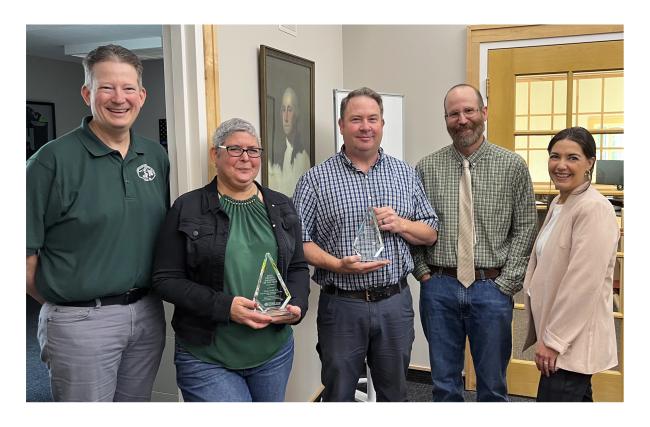 We are pleased to announce Paula Cox, PE and Josh Patrick, PE have been named co-recipients of the 2023 Project Manager of the Year award for their significant work on the West Cashmere Bridge replacement in Chelan County.
We are a small agency with a lot of big duties. One of the joys and honors we have is also getting to recognize exemplary service at the county road departments throughout the state.
Since 2013, our agency has presented a Project Manager of the Year Award to recognize outstanding performance, public service, and contributions toward the programs and projects that make a difference in our communities across the state. Depending on the merit of the nominations, the award may be split at the discretion of the review committee.
"[Paula and Josh] are nominated together for this award because no one person could have led this project, which took seven years to complete. The West Cashmere Bridge Replacement is the largest construction project ever undertaken by Chelan County and we relied heavily on their leadership and skills."

- Eric Pierson, Chelan County Engineer & CRAB Board Member
Built in 1929, the Cashmere Bridge was identified as a "fracture critical, functionally obsolete structure" and closed for safety in 2020. If it had not been replaced, it would have permanently eliminated the only over-the-railroad access across the BNSF rail line that intersects the center of the small community of 3,100.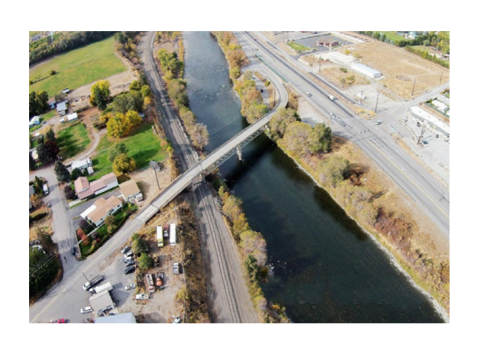 While the bridge serves a central role in the community, it's former height and weight restrictions prohibited heavy trucks, school buses and emergency response vehicles from using it. As a result, Cashmere's volunteer fire department, located on the east side of the tracks, was forced to take an 8-mile detour on rural roads with steep grades to respond to emergencies on the west side each time a train was passing through town, which occurs over 150 times per week.
As the primary bridge inspector, Assistant Engineer Paula Cox was involved in the project from day one.
She served as the lead grant-writer for the project, obtaining the funds needed for the project. Almost the entire cost of the $26.7 million bridge was paid for with federal and state grants, requiring Chelan County to contribute only $214,000. $2.5 million of the funding came from CRAB's Rural Arterial Program and we are very happy to have had a part in this project.
Paula also led the internal designs of the project and oversaw consultant-led design efforts until 2020, when it was handed over to Assistant Director of Public Works Josh Patrick for construction.
Paula takes a hands-on approach to her work and effectively managed multiple stakeholders through the design, environmental, permitting, and right-of-way acquisition processes. Her strengths in project management and bridge engineering were heavily relied upon to great success throughout this project.
Once the construction contract was awarded in early 2020, Josh Patrick took the lead on the project.
Because the Cashmere Bridge spanned a railroad line, the logistics were significantly more complex and necessitated managing compliance requirements for contractors, permitting, federal contracts and state audits.
Frequent and consistent communication with the multitude of stakeholders was essential to keep the project moving forward and on budget. Josh also frequently went above and beyond to address local resident concerns in an approachable and friendly way.
Josh's strengths include a vast knowledge of road construction but also a level-headed approach to people. The project required constant communication with the public, especially businesses and residents in the project area. Having the ability to take complex technical information and communicate it in a way folks can understand it – that's a gift.
The newly completed, 952 foot long structure opened June 12, 2022. The bridge included 20 steel girders weighing 1.7 million pounds to ensure that it could support all users, including heavy trucks, transit vehicles, bicycles, and pedestrians.
It is noteworthy that they brought the Cashmere Bridge project to fruition while carrying out their regular duties including managing staff and moving current and future projects forward. If this had been a larger public agency project, a project of this magnitude would have had multiple staff members just to do what Paula and Josh did. They should be commended, appreciated, and recognized. 
Please join me in congratulating Paula and Josh!
Image

Drew Woods
Deputy Director